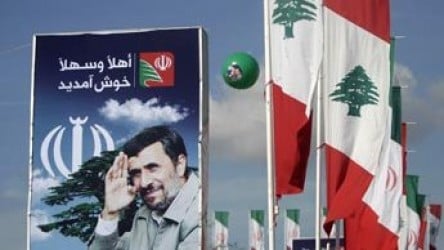 Originally published in Foreign Policy Association Blogs
Co-Authored by Azadeh Pourzand and Reza Akhlaghi
The Region at A Glance
2012 was the year that the Middle East entered a period of turbo instability. This period accentuated itself in different parts of the region in different forms. Syria's civil war reached a point of no-return-to-normalcy, ensuring only one outcome for Bashar Al-Assad's government: eventual downfall. In Bahrain, continued unrest against a Saudi-propped corrupt Sunni elite has made the future of this island nation increasingly uncertain for much of 2013. The Israeli-Palestinian conflict was exacerbated by increasing acts of violence on both sides. Intransigence on the part of Netanyahu to embrace diplomacy and adoption of blind militancy by Hamas against a powerful military ensured that there will be hardly any light at the end of the Israeli-Palestinian tunnel any time soon. Iraq experienced a new spate of bombings of mostly sectarian nature and the country moved closer to ethnic based politics as the Kurds in the north and the central government in Baghdad vied for the control of the oil-rich Kirkuk region, which promises to drag the country further into a period of instability. Moreover, with the break-up of Syria a distant possibility, the Kurds in Iraq and Turkey feel they have a new chance at an independent homeland.
Meanwhile in Turkey, a country led by once an annoyingly confident Prime Minister, Recep Tayyip Erdogan, the Turkish leadership saw in 2012 key aspects of its grand foreign policy design disintegrate, thanks to the turmoil in Syria and the intransigency of Assad's regime to cling to power coupled with resurgence of geopolitical rivalry with an economically bruised Iran over a post-Arab Spring Middle East. But what happened to Iran in 2012?
Iran at A Glance
For Iran, 2012 was a year of shift in political allegiances at home and regional transformations with no clear winner at this stage. The Iranian economy continued its downward spiral as a result of harsh economic sanctions coupled with lack of tangible progress in its nuclear dossier, which, in the waning days of 2012 made Iran observers and analysts hold their breath as to what 2013 has in store for the country. Iran held Majles (parliamentary) elections that led to the erosion of Ahmadinejad's base in the legislative assembly. Heading to 2013, Iran is preparing for an important presidential election that has already energized its factions to jockey for influence to prop up their respective candidates. Regionally, as the U.S. and Iran continue to slug it out over dominance, the overarching issue for Iran in 2013 will be whether or not it can reach a comprehensive understanding with the Western powers over its nuclear program and subsequently extricate itself from the backbreaking sanctions. Another crucial issue for Iran is whether it will make changes to the direction of its foreign policy, particularly after the upcoming presidential election.
A New Security Environment: Syria Looming Large
Iran in 2012 saw the region's continued plunge in instability with a mixed sense of optimism and uneasiness. Developments in Bahrain demonstrated the resolve of the country's Shiite majority against the Sunni rule backed by the Saudis. For Iran, this still gives a flicker of hope for the rise of Shiite in Bahrain through democratic elections, whose outcome could tilt the balance of power to the detriment of the Saudis with the potential to impact the U.S. naval presence in the region.
Syria looms large in Iran in two key respects: regionally and internally. Regionally, Iran could very well see the departure of a strategic partner with the country facing prospects of territorial disintegration. Iran then could find itself with the huge task of carving out a new strategic position in war-ravaged Syria, and by extension, in the Levant. This could herald the resurgence of ethno-regional nationalism with Sunnis having the upper hand and the Hezbollah finding itself exposed to a new strategic environment.
Iran and Turkey are bound for greater rivalry in 2013, especially if sanctions against Iran continue with their biting force. In a post-Assad Syria Turkey almost certainly will be in a position to re-assert itself in the Levant, using its economic might and help the country in rebuilding its war-ravaged economy and forge close ties with the Sunnis, who will most likely make up the core of a future Syrian leadership.
Internally, the Iranian leadership would be worried about a potential boost Assad's fall could provide for the aspirations of Iranians who are fed up with Iran's international isolation, economic mismanagement, and an institutionalized culture of financial corruption. Moreover, the continuation of sanctions could further erode Iran's ability to project power regionally and force its leadership to face an increasingly impoverished middle class and the prospects of domestic social unrest.
For Iran's economy to gain any semblance of normalcy, therefore, it desperately needs sanctions lifted irrespective of how corrupt its economic management system is and how it is influenced by a notoriously factionalized domestic politics.
Human Rights
The human rights situation in Iran remained grim in 2012. The systematic violation of human rights against individuals and groups continued to be a serious problem.  Dr. Ahmed Shaheed, the United Nations Special Rapporteur on the situation of human rights in Iran, in his March report catalogued "allegations that produce a striking pattern of violations of fundamental human rights guaranteed under international law".
In the face of Iran's nuclear program and the subsequent tightening of sanctions against it, this year the international community paid notable attention to human rights violations and in particular to prominent cases of prisoners of conscious. Similarly, Iranian journalists, lawyers, student activists, civil society actors, youth, women, minorities, the LGBT community, juveniles and other vulnerable groups became subject to various forms of discrimination and persecution in 2012.
As recently as December of this year, the United Nations General Assembly (UNGA) condemned the government of Iran for "serious and ongoing human rights violations".  UNGA member states that overwhelmingly voted against Iran's violations of human rights, condemned such abuses as mass executions, torture, arbitrary arrest and detention, intimidation, and a wide range of other tactics to suppress dissent. This resolution, offered by the Canadian Government and co-sponsored by 43 other states marked the 25th resolution on the human rights situation in Iran that made it through the UNGA since 1985. In addition to warnings by the international community against human rights violations in Iran, civil society organizations also stepped up their criticism. For instance, in October 2012 the Sakhorov prize went to Nasrin Sotoudeh, an Iranian lawyer and human rights advocate who is currently in prison, and Jafar Panahi, an Iranian director whose films calls attention to the life of the poor in Iran.
However, mounting international pressure has not entirely translated into an overall improvement of human rights in Iran. Today, many remain imprisoned for reasons such as human rights advocacy and their political and religious beliefs. While the list of prisoners of conscious in Iran is long, a few cases have received attention from the International community. Some of today's prominent political prisoners in Iran include Nasrin Sotoudeh who went on a long hunger strike to protest the ban to see her daughter; Abdollah Momeni, a student activist prisoner who was also banned from family visits; Bahareh Hedayat,  a student and women's rights activist serving a 10-year sentence following her arrest during the Green Movement of 2009; Majid Tavakolli, a student leader and the winner of the Norwegian Student Peace Prize, who was arrested during the Green Movement; Zia nabavi, a student activist serving a 10-year sentence in a remote location with the vague charge of "enmity against God.
Moreover, difficult circumstances in detention have led to deteriorating health of political prisoners with cases of death in custody. For instance, 35-year-old Iranian blogger Sattar Beheshti who was arrested on October 30 by the cyber police for having criticized the government, died on November 6 after being subjected to alleged ill-treatment and/or torture.
In addition to individual cases of human rights violations, various religious and ethnic minorities and groups faced discrimination and persecution in 2012. According to a report on minorities by the United Nations and Peoples Organization (UNPO) released in October 2012, the most acute concerns facing all minority groups in Iran are arbitrary arrest, imprisonment and death sentence.  While expressing concern for ethnic minorities in Iran such as the Baluchis and the Kurds who face discrimination and persecution, the UNPO General Secretary, Marino Busdachin, highlighted increased violations of human rights against religious minorities such as the Baha'is, Christians, and Sufi Muslims, some of whom have been called "deviant and corrupt" by some officials.
Relations with the US
US-Iran relations became even more challenging in 2012.  In January 2012 the already tense relations worsened as Iran condemned an Iranian-American detainee, Amir Mirzaei Hekmati, to death on the charges of espionage for CIA. More importantly, the ongoing disputes over Iran's nuclear program and the possibility of enriching uranium at higher grades further escalated. Ultimately, the disputes led to the US-led tightening of economic sanctions against Iran. Iran and its foreign policy played a central role in the U.S. presidential campaign of 2012. President Obama, with a second term mandate, is convinced that a tough sanctions regime will force Iran into negotiating with the US. However, the P5+1 talks in Istanbul, Baghdad, and Moscow did not lead to tangible results. There are already signs that Iranian officials will be more willing to negotiate and reach a settlement with the US and the West after Iran's upcoming presidential elections in June 2013, which will mark Ahmadinejad's eight-year-long presidency.
However, despite the US and European Union-led sanctions against Iran, some in the US Congress believe that they should increase the potency of sanctions. The Congress and the White House are currently in the process of finalizing new measures against Iran.
In addition to the above challenges, Iran and the US have experienced tensions over regional developments. For instance, in Syria, where Iran's close ally Bashar al-Assad is struggling to hold on to power, the US supports the rebel groups that fight against Assad.  Moreover, Iran and Israel continue to openly bash each other as Iran does not compromise over its nuclear program and continues to fund and arm Hamas in Palestine while Israel considers Iran an existential threat.  The above developments collectively characterize the nature of U.S.—Iran tensions in 2012. Nevertheless, Iran and the US also share common interests in the region, particularly in Iraq and Afghanistan, where geopolitical instability harms national interests of both countries. With the departure of American forces from Afghanistan in 2014 and the preparations that will start in 2013, Iran and the US are likely to step up collaborative measures in the region; even if behind closed doors.
Reform and the Fate of Iranian Reformists
The word "reform" and "reformist" have taken on complex evolutions in contemporary Iran. Originally used to refer to President Khatami and his supporters and policies in the 1990s and early 2000s, the term has become broadly inclusive of supporters of the Green Movement in 2009 as well as others who demand gradual or drastic reforms in Iran's political structure. Today, with the leaders of the Green Movement still under house arrest and continued repression and marginalization of their allies, it has become a challenge to describe who is classified as a reformist in Iran's political scene.
In 2012 the rhetoric of the Islamic Republic became even more aggressive against reformists and the Green Movement. With Iran facing mounting economic hardships and at the same time drawing closer to next year's presidential elections, the Iranian leadership has stepped up its crack down on any sign of opposition especially coming from the reform camp.
Meanwhile, despite sporadic grassroots attempts by Green supporters to keep the movement alive, the Green Movement has grown weaker due to regime's effective repression methods. And with the marginalization of reformists from the official political discourse and in state media, it is unlikely to see approved presidential nominees with a reformist agenda. Still some reformists are rumored to have backed a conservative candidate known for his close ties with reformists.